Resortecs and BekaertDeslee join forces to transform mattress cover recycling
Resortecs has partnered with BekaertDeslee, a global leader in the production of mattress textiles, covers, and modern sleep solutions. Together, both companies are taking Design for Disassembly beyond fashion to offer a groundbreaking solution for mattress cover recycling – reducing waste and increasing the recyclability of one of the most complex textiles products.
Currently, less than 1% of all textiles are effectively recycled. The remaining 99% end up landfilled or incinerated. The challenge of disassembling and sorting multi-material textile products is largely behind these staggering figures. In the case of mattresses, the textile cover is especially difficult to recycle due to its mixed materials and several components.
To tackle that, Resortecs and BeekaertDeslee have developed a unique and cost-efficient solution to make mattress covers that are made for being unmade. With the ultimate goal of easily dismantling, sorting, and recycling as much fabric as possible, BekaertDeslee will allow its clients to make mattresses using Resortecs' Smart Stitch™ heat-dissolvable threads. The two companies have been working together since 2022 to create the first multi-material covers designed for industrial-scale disassembly and recycling.
At the end of the cover's life, mattress brands will be able to use Resortecs' low-emission Smart Disassembly™ systems for easy pre-recycling disassembly. This will help the industry to avoid polluting end-of-life processes (e.g. incineration), boost its recycling rates, and reduce each product's carbon footprint.
As a circularity leader, Resortecs sees the partnership with BekaertDeslee as a significant step towards achieving industry-wide textile circularity. The two companies will continue to work together to develop innovative solutions that reduce waste, increase recyclability and promote a greener future for the industry and the planet.
Resortecs is one of the 13 winners of the Make it Circular Challenge!
On May 3, the 13 winners of the Make it Circular Challenge were announced. A total of 650 circular initiatives from over 20 different countries participated in the highly competitive challenge organized by the IKEA Foundation and What Design Can Do.
According to the challenge's international jury, Smart Stitch™ and Smart Disassembly™ "represent the very best of design innovation and have the potential to make a significant impact in promoting sustainability and circularity."
The Make it Circular Challenge
The competition was launched last year by WDCD and the IKEA Foundation to identify and support some of the world's most promising circular innovations and enterprises. From hundreds of entries worldwide, 13 exciting visions for a restorative and regenerative future were selected, from seaweed packaging to waste-based textiles and upcycling marketplaces.
In addition to a €10.000 prize fund, the winners of the Make it Circular Challenge will have access to a six-month-long development program. The program was co-created by experts from the global Impact Hub network, providing the winning teams with the expert mentorship, guidance, and tools they need to grow their businesses and expand their impact on the world. The International Jury, consisting of 11 influential figures in circular design and entrepreneurship, including Bas van Abel (Fairphone), Corinne Gray (Unreasonable Group), Arthur Huang (Miniwiz), and Tamara Streefland (Built By Nature), was responsible for determining which of the 50 nominees had the most potential and would best benefit from this development program.
Selected by Secrid
Resortecs is also one of the three special projects to receive additional press and assistance. Secrid, a carbon neutral wallet producer, has chosen the 3 winning projects as part of their Impact Fund program, pledging to devote 1% of its revenue to bringing together designers and supporting their efforts to create products that enhance the planet's natural and social equilibrium. By supporting Resortecs, Secrid aims to accelerate the development of the next generation of designers and promote change in our industries.
• Seed investment and EIC grant combined, the startup is tapping into €4.7M to boost production in 2023 and increase tenfold its disassembly capacity in 2024.
• Belgian Prime Minister, Alexander De Croo, highlighted the importance of funding circular entrepreneurship in a visit to the startup's warehouse in Brussels.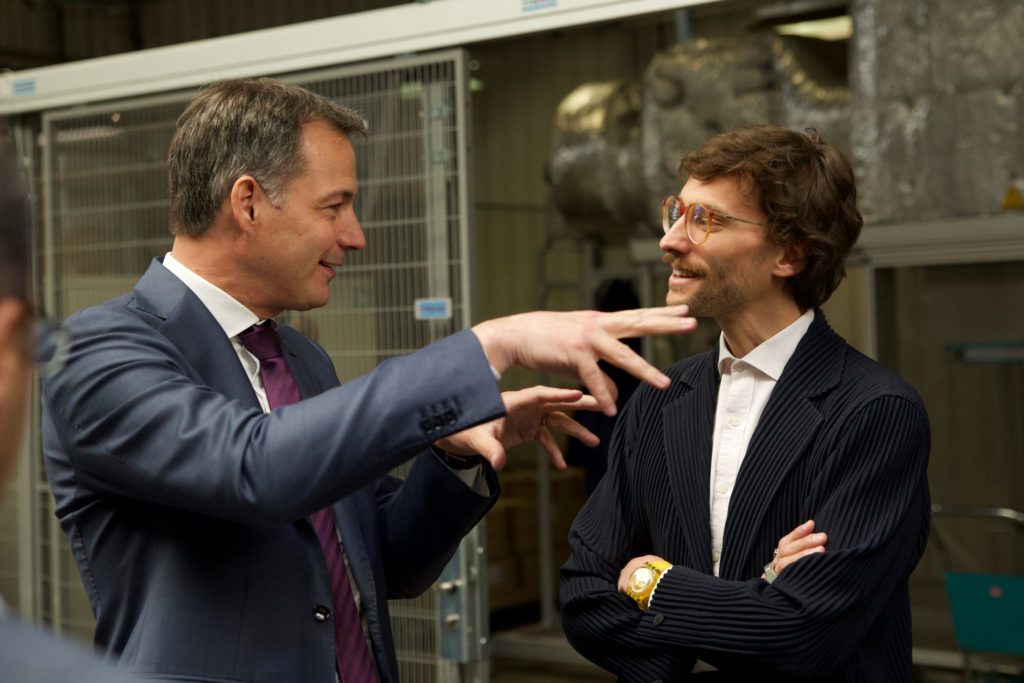 BRUSSELS, BELGIUM – 26 April, 2023 – Belgian startup Resortecs has raised €2.2 million in a seed investment round led by Brussels-based ScaleFund and finance&invest.brussels. Founded in 2017, the fashion tech company develops design-for-disassembly technology to make textile recycling fast, easy, and cost-efficient.
makesense_invest, AFI Ventures (the impact arm of Ventech), Trividend, and PDS Limited also joined the funding round, which follows a €2.5 million grant received from the European Innovation Council (EIC) in 2022. In total, Resortecs is tapping into €4.7 million to boost production this year and finalize the development of a continuous disassembly line, scaling up tenfold its pre-recycling processing capacity to 10T/day in 2024.
Currently, less than 1% of fashion's production is recycled, meaning a yearly loss of materials worth €500 billion and placing the sector in the world's top 5 polluting industries. Behind these figures is the complexity of sorting recyclable and non-recyclable materials.
With Smart Stitch™ (heat-dissolvable thread) and Smart Disassembly™ (industrial-scale thermal disassembly system), Resortecs enables brands to make textile products designed to be easily sorted and disassembled for recycling. Bershka, Decathlon, and H&M already use Resortecs' Smart Stitch™ heat-dissolvable threads in products sold in over 60 countries.
"Our goal is to reduce the textile industry's carbon footprint by 40 billion tonnes of CO2 by 2040. For that, we have to think big and take design for disassembly beyond fashion. Our headcount has doubled in less than 6 months. In just a few weeks, Smart Stitch™ will also be found on the world's first mattress covers designed for disassembly, made in collaboration with Belgian sleep industry leader BekaertDeslee." – explains Cédric Vanhoeck, Resortecs' co-founder and CEO.
The Belgian Prime Minister, Alexander De Croo, visited the startup's warehouse in Brussels on 26 April and highlighted the importance of investing in Belgian circular entrepreneurship:
"As Europe does not have many natural resources, we have to make a choice: we can either look at everything we have already produced as waste, or consider it as potential future raw materials to protect the planet. Innovations like this are key to strengthening our industrial competitiveness. Resortecs is a fine example of green growth and Belgian innovation that is ready to take the world!"

Resortecs, Tomorrowland, Paul Bowens, and Amandine David are the big winners of the Henry van de Velde Awards 2023 !
On Tuesday evening, February 7, all winners of the Henry van de Velde Awards received their coveted prize at Bozar in Brussels. In addition to the announcement of who won gold, silver and bronze within the 9 project categories, the winners of the 4 main prizes and the Public Award were also announced.
The jury of the Henry van de Velde Awards, one of the largest award ceremonies in Belgium, "believes in the impact and growth of the company and hopes that their innovative developments will now also find their way into the design world," according to the statement about the award ceremony.
Henry van de Velde Award for Resortecs
The Henry van de Velde Awards are often referred to as the Oscars of design in Flanders. They are the oldest (this year is the 29th edition), best known and most prestigious design awards in Belgium. Winning an award, therefore, opens many doors, at home and abroad. ​​​​The awards are organized annually by Flanders DC, but the selection of the winners is always done by a carefully composed jury. In addition to chairman Chris Baelus, members of the jury this year included Herman Konings, Katrien Laporte, Max Borka, Elien Haentjens, Ronald Bastiaens and Siegrid Demyttenaere.

Resortecs was considered by the jury a role model in applying the principles of ecodesign. In 2021, Resortecs was also crowned Changemaker of the Year at the Belgian Fashion Awards.
Other parties from the fashion and textile industry can be found among the other winners of the Henry van de Velde Awards. For example, Amandine David received the Young Talent Award. David specializes in traditional crafts such as weaving and pottery in combination with digital production. MyBlanket won Gold in the Consumer Awards category for a rain cover that wheelchair users can attach over their legs without assistance or standing up. No Time To Waste won the Design Research Awards category, which uses fluff, a by-product of the textile industry, and explores its possibilities.
The Henry van de Velde Awards are organized annually in Flanders DC and were made possible thanks to the support of the Flemish Agency for Innovation & Entrepreneurship (VLAIO), Bozar, Z33, the Public Waste Agency of Flanders (OVAM), the Flemish Environment Agency (VMM) and Bokrijk.
More information via ​https://www.henryvandevelde.be/
BRUSSELS, BELGIUM – Wedze, the winter-sports brand of French giant Decathlon, partnered with Belgian innovator Resortecs to launch a fully recyclable ski jacket using the start-up's design-for-disassembly technology.
Different from normal ski jackets, which are extremely difficult to recycle due to their complex material composition, this flagship is made of 63% recycled polyester, and 23% of the fabrics are dyed using dope dyeing – one of the most water-efficient dying techniques.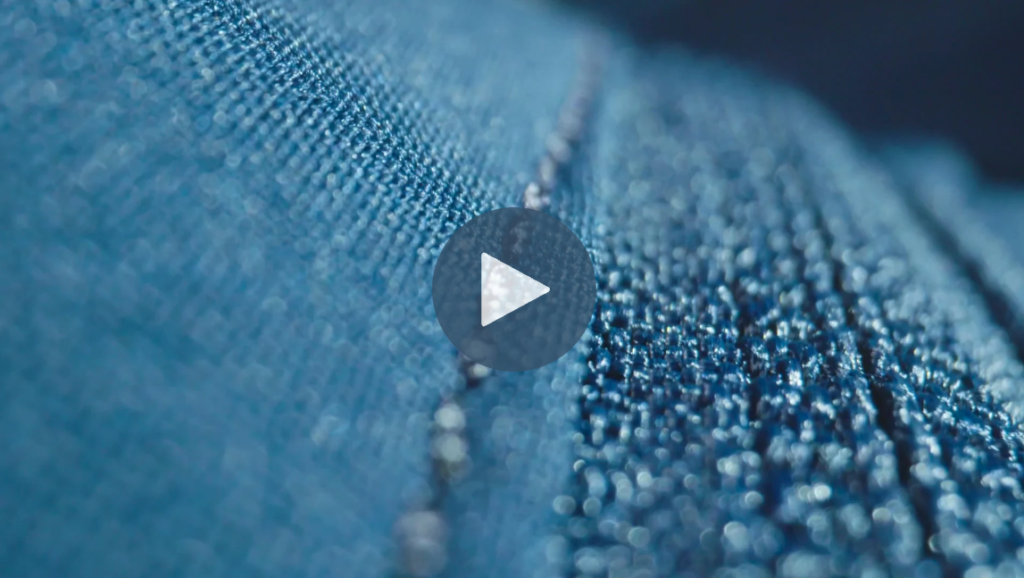 As making a completely mono-material jacket isn't yet possible , Wedze found in Resortecs the ideal partner to bring its first fully recyclable ski jacket to life. The start-up's Smart Stitch™ threads melt and disappear when exposed to temperatures above 190°C, ensuring that the non-recyclable zippers, press buttons and elastics bands can be easily separated from the polyester parts when it is time for recycling.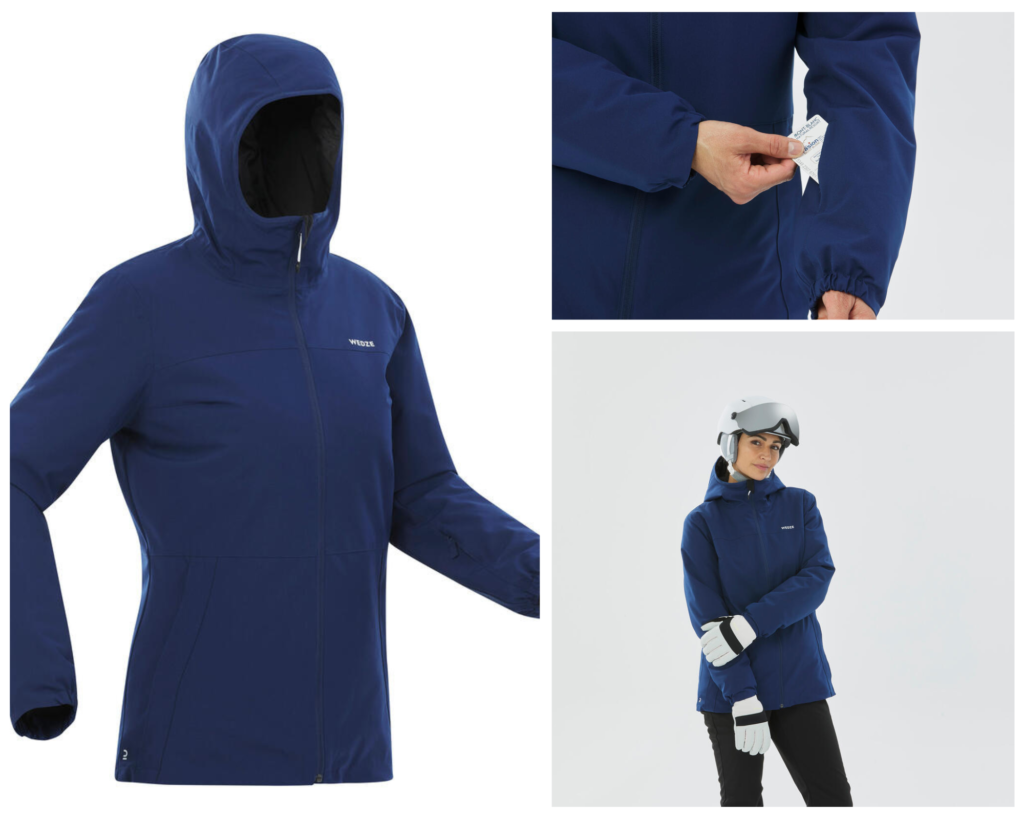 "Clients who want to join our circularity efforts can return their used jackets when they are no longer fit for use, and we'll recycle them into new products." Explains Fern S., Product Engineer and Sustainable Development Leader at Wedze.
"We are excited to launch a product with Wedze because, like the entire Decathlon group, they are known for their efforts to develop more sustainable products. The jacket looks great and has infinite possibilities for its next lifecycle." – Cédric Vanhoeck, co-founder & CEO at Resortecs
Decathlon joins H&M and Bershka (Inditex Group) in our client roster and becomes the 3rd major global brand to launch products with Smart Stitch™ and Smart Disassembly™ in less than a year.
Skiers who don't want to compromise on sustainability when hitting the slopes can find the disruptive jacket at Decathlon stores in Spain and online at www.decathlon.com for all other European markets.
Resortecs – REcycling, SORting, TEChnologieS – is an award-winning start-up that develops design-for-disassembly solutions. We drive full circularity in fashion with heat-dissolvable stitching threads and thermal disassembly systems that make recycling easy.
For further inquiries:
Davidson Leite
Communications & Branding Lead
[email protected]
The fashion-tech startup that facilitates industrial-scale textile recycling is one of the 74 high-potential businesses chosen in the most competitive selection of the European Innovation Council (EIC) Accelerator.
BRUSSELS, BELGIUM – Brussels-based startup Resortecs has been selected to receive a grant worth €2.5M from the EIC Accelerator. The startup enables industrial-scale recycling in fashion thanks to high-quality, automated garment disassembly.
Currently, less than 1% of all clothing produced is recycled, largely due to the high costs and complexity in separating different textile materials prior to recycling. Resortecs solves this issue with two patented innovations: Smart Stitch™, heat-dissolvable stitching threads, and Smart Disassembly™, an industrial oven capable of separating the different components of clothing made with Smart Stitch™, all without compromising the quality or creativity of clothing.
Aligned with the EU efforts to accelerate circular fashion and progressively halt fast-fashion production, Resortecs is one of the 74 startups selected out of over 1000 applicants in what is the most competitive funding round from the EIC Accelerator. The high-potential companies will each receive grants and/or equity investments, depending on their needs.
Mariya Gabriel, Commissioner for Innovation, Research, Culture, Education and Youth said:
The new wave of innovation is currently led by deep tech start-ups that target societal challenges. I am happy to see so many of them applying to the EIC, in particular from countries that are catching up in their levels of research and innovation performance. Thanks to the European Innovation Council, they will get the support they need to accelerate their growth and lead on the next wave of deep tech.
Founded in 2017 by Cédric Vanhoeck and Vanessa Counaert, in 2021 Resortecs had already raised over €1.8M to fund R&D and start piloting their disassembly solution, now validated by over 30 global fashion giants. Winners of several awards – from the H&M Foundation Global Change Award in 2018 to the 2022 Female Founder Challenge organized by VivaTech and Société Générale just last week – the startup counts on renowned supporters, including La Maison des Startups LVMH in France, Desigual's Awesome Lab in Spain, and the BMW Foundation's RESPOND Accelerator in Germany.
We are thrilled to have been selected by the EIC. This sum is a stepping stone to close our current €5M fundraising round – the most ambitious so far. We want to double the team, produce new continuous disassembly systems and scale our thread production to answer the ramping demand for circular solutions coming from the EU textile industry. – Cédric Vanhoeck, co-founder & Executive Lead.
Resortecs' Smart Stitch™ has already been used in collections such as "Genesis" in collaboration with the American made-to-measure jeans brand Unspun and with H&M for the "Circular Design Story" capsule collection. A new partnership with Spanish giant Inditex is set to hit the stores this summer. By the end of the year, the French Decathlon will launch its first model with Resortecs' thread: a fully circular ski jacket.
Resortecs is the laureate of Viva Technology & 50inTech's #FemaleFounderChallenge of 2022! Vanessa Counaert, our co-founder and Strategic Lead, was crowned female founder of the year for Resortecs' innovation, scaling potential, and solution impact.
The #FemaleFounderChallenge is an initiative that puts female entrepreneurs at the front and aims to accelerate the financing of women-led startups and to urge Venture Capital (VC) funds to commit to more gender equality at all levels. Resortecs was one of the 5 finalists of the challenge, selected out of over 500 applicants from 69 countries.
As the new winner, Vanessa and Resortecs get access to a substantial platform of visibility from Viva Technology – VivaTech is the biggest European event for technology and startups. Additionally, the laureate also gets private meetings with the #FemaleFounderChallenge's high-level VC jury, a speaking opportunity with Maddyness, mentoring sessions on fundraising with Claire Calmejane from Société Générale, and last but not least, a startup booth at VivaTech 2023.
It was very inspiring for Resortecs to be surrounded by so many female entrepreneurs, with a special shout out to the other 4 finalists: Charlotte Gaudin from AML Factory, Shusma Shankar from Deep Planet, Lilia Leye Shwartsman from MICA AI MEDICAL, and Bola Bardet from Susu.
What an incredible closure to Resortecs' participation in Desigual + Plug and Play Tech Center's Awesome Lab – Spain's first fashion-tech acceleration program!
This acceleration program supports selected startups through mentorships, training, providing resources and tools, and funding. This initiative aims to boost the development of technology solutions that will face the main challenges of the fashion industry.
Resortecs was chosen for its technological solution and innovation at the service of the circular economy. The challenge proposed by the Awesome Lab was to assign a new use to garments to give them a second life. Resortecs worked alongside Desigual for 8 months on a pilot where the Spanish giant implemented Resortecs' technology in a strategic manner in order to build together the future of fashion.
Last week, Resortecs was invited to the Awesome Lab's final Demo Day in Barcelona to pitch the results of the collaboration. But Resortecs didn't stop there. Not only did our team give a great pitch, but they also won the award for "best project presentation". Indeed, the collaboration showcased successful results and optimistic insights on collaborations between technologies such as Resortecs and fashion brands, and on the future of circular fashion!
Resortecs is thankful for the incredible journey alongside Personify XP, Vestico, Syrup Tech, Exonode, Swearit, Shelly Xu Design, and looks forward to years of partnership for circularity con la marca más chula de la moda española!
Resortecs' innovation – the first of its kind – can process up to 1 ton of garments per day and is being tested by 30 major global fashion brands
Recently, images of the mountains of unsold clothing dumped in the Atacama Desert, in Chile, shocked the world. Each year, 34 million tonnes of textiles worth more than 400 billion euros are wasted by the fashion industry – which became a strategic target of the EU Green Deal. Behind these alarming figures are the costs and complexity of disassembly and recycling. When faced with stacks of unsold inventory, that might reach up to 40% of each season's production, fashion brands turn to options easier and cheaper than recycling, such as landfills or incineration. If it's up to Resortecs, however, this scenario is about to change.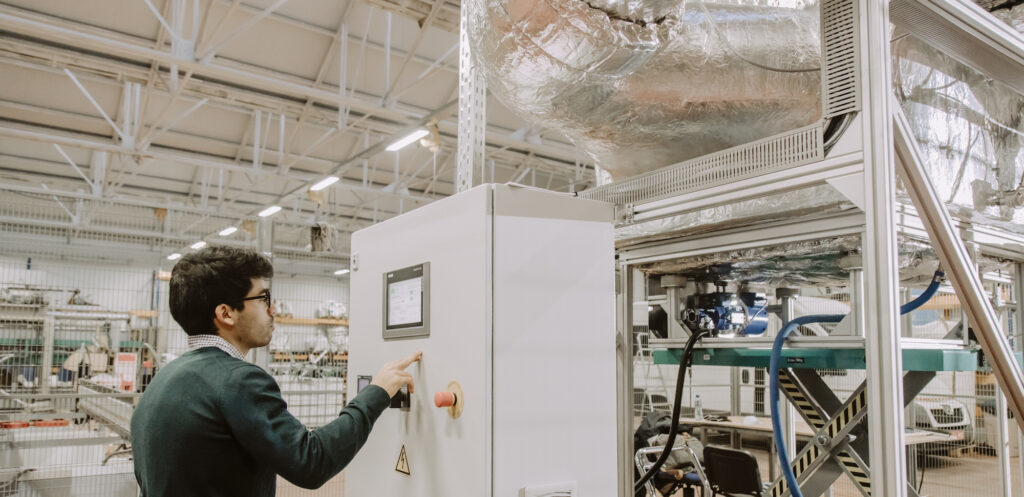 The start-up presents its first thermal disassembly system in a demonstration event for the press, politicians, investors, and industry peers in Brussels on Thursday, 09/12. The system combines heat and mechanical force to disassemble clothes stitched with Resortecs' heat-dissolvable threads. Inside the system – a globally-patented, high-tech version of an industrial oven – the clothes are exposed to specific temperatures, making the seams disappear automatically and allowing for easy material sorting and recycling.
"The system works with little to no oxygen inside. This preserves the fabrics' quality and prevents the clothes from burning, even when they are submitted to temperatures higher than 200° C", explains William Allouche, Technical Lead for Disassembly and the mind behind the system's engineering. "We've made sure to develop a closed-loop system to preserve the heat produced for each batch of clothes for the longest time possible. This ensures energy recovery and generates way less CO2 emissions than other heat-induced processes."
The thermal process is 5x faster than traditional disassembly methods and enables the recycling of up to 90% of the original fabric material, instead of the usual 48% obtained after manual or mechanical disassembly. Using data to prove the impact of its innovation, Resortecs ran an externally-reviewed life-cycle assessment which shows that the process adoption could help the fashion industry cut its CO2 emissions by 50% and reduce waste generation by 80%. If the entire EU production were thermally disassembled and recycled, the fashion industry could generate 60.3 million fewer tons of CO2 and save up to € 2.3 billion per year.
The version presented to the public is just a prototype. It can process up to 1 ton of textile per day and is being used to show first partners, such as the fast-fashion giant H&M and other 30 global fashion brands, how the start-up's solution works. In the long term, it will be part of a network of thermal disassembly systems placed in recycling plants all over the world. The idea is to cover the globe with automatic thermal disassembly to speed up global textile recycling. Still in 2022, a second system with a larger processing capacity will come into operation. Together, both units will be able to prepare up to 13 tonnes/day of clothing for recycling, an unprecedented volume in the world.
"Everyone thinks of recycling, but no one looks at the biggest challenge to make it happen: disassembly. We saw an opportunity to optimize production while boosting up recyclability and sustainability, and we jumped on it" says founder Cédric Vanhoeck. "Brands have finally realized that there's no way to continue producing and wasting textile as if nothing is happening with the planet. When we started 4 years ago, brands complained about the costs of sustainability, now they come to us because they understand that circularity is an investment."